Today in Tulum, sunlight will beam through the windows of buildings built particularly to "catch" the equinox. The fall equinox is being celebrated today September 23 in Riviera Maya at the archaeological sites of Tulum and Chichen Itza. These are special places to visit any time of year, but particularly so at the equinoxes, when guides can point out special phenomena that occur only during the equinoxes at the pyramids built to represent the Mayan Calendar.
The name equinox means "equal night" in Latin. As the Northern Hemisphere moves into autumn and the South emerges from winter into spring, the equinox is a celestial event that marks this transition happens twice every year around Sept. 21. Spring Equinox will occur on March 20, 2022. People travel from around the world and gather to admire this astronomical spectacle. Dressing in white clothes to attend Equinox-themed ceremonies and events is believed to get rid of "bad vibes" and attract positive energy from the new sun.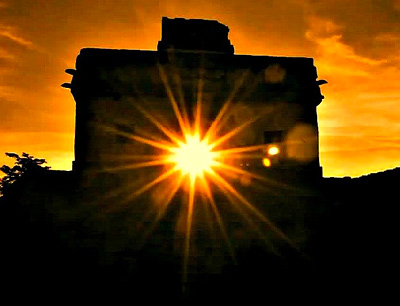 The most spectacular equinox celebrations take place at  Chichen Itza, where only on the equinoxes,  the late afternoon sun creates the illusion of a snake creeping slowly down the northern staircase on the El Castillo pyramid dedicated to Kukulcán.   Symbolically, the feathered serpent joins the heavens, earth and the underworld, day and night. Kukulcan's return to Earth provides blessing for a full harvest and good health to his worshipers.   An illusion of light and shadow creates seven triangles on the side of the staircase, at Chichen Itza then it connects the top platform with the giant stone head of the feathered serpent at the bottom.  This phenomenon casts this shadow for about 45 minutes before slowly descending the pyramid and disappearing.
Stay tuned because on December 21, 2021 at 10:58 am, the sun will appear to be climbing the temple of El Castillo while it ascends into the sky to mark Winter Solstice.  During the same day, there is also a point when the temple's northern and eastern sides are completely dark while the southern and western sides are illuminated in bright sunlight. This remarkable occurrence is not unlike the solar patterns that take place at the north and south poles.  It is the shortest day of the year, when the Earth's North Pole is tilted farthest from the sun.   The Maya considered the winter solstice to be a symbol of renewal. They were comforted in knowing that spring was not far off and every day in the upcoming season would be longer than the last.