Orlando Parade of Homes 2020 Illustrates Talent in a Market That Will Host the 2021 International Builders Show
By Beverly & Steve Smirnis
t was our pleasure to be asked once again to judge for the Greater Orlando Builders Association's Parade of Homes. The event, originally scheduled for May was moved up to July showcasing homes throughout Orange, Seminole, Osceola and Polk Counties. We had the pleasure of judging for the Grand Awards, so each of the homes we visited had earned high scores in the preliminary judging that took place the week prior to our arrival. We were on one of several teams judging houses that day, and we judged across several different categories.
Each home was judged on exterior and interior elements, craftsmanship, floorplan and overall appeal on a scale of 1-10 on our scoring sheet.
ABD Development's Courtyard
Our day started with a drive to Polk Country to Davenport, south of Orlando, to see ABD Development's Courtyard model in Hampton Landing at Providence.   As we entered, we were greeting by its  huge central courtyard with pool flanked by a separate pool house/casita.  One thing the Orlando market excels in is lighting, and the fixtures in this home provides a grand illustration of that.  Its appliances show off the latest from Samsung including the huge Family Hub™ computer screen on the refrigerator door.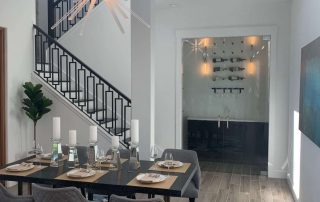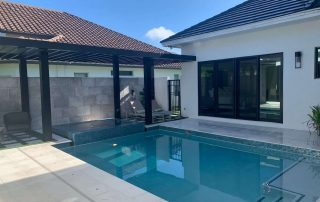 PulteGroup's Heatherton
PulteGroup's Heatherton model was our next stop in the popular Dr. Phillips suburb of Orlando, conveniently located near I-4, Disney Springs and "Restaurant Row."  One of Pulte's luxury floorplans,  the Heatherton features an open kitchen and two-story great room.  And of course, as one would expect of an Orlando home, the Pulte model home at Phillips Grove featured a beautiful pool and large covered lanai.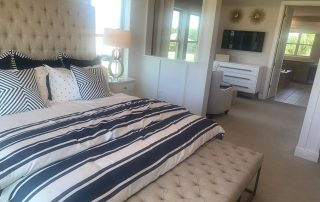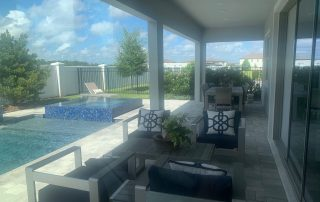 M. Lahr Homes
We loved, loved loved the location of M. Lahr Homes home on Lakeside Drive on Lake Rowena in Orlando.  The modern architecture home was masterfully designed to capture natural light and lake views from most every room.  Its blend of wood tones and matte finishes along with furniture staging introduced a warm and welcoming mid-century modern element. The home featured two master suites and showcased high-end custom Artios cabinetry with clever storage solutions in the kitchen and elsewhere throughout the home.  
Farina & Sons, Inc
Our last stop was a remodeled home by Farina & Sons, Inc., who built the New American Home the last time the International Builders Show was in Orlando. Farina's IBS home is located in the same neighborhood as the 2021 New American Home, now being built for the next IBS show February 9-11 back in Orlando for 2021. We visited Farina's completely restored and updated Country French estate in Orlando County Club. The team did a wonderful job at maintaining the home's classic French heritage. 2,000 square feet was added to allow a new open gourmet kitchen and family room overlooking the outdoor living areas and a new master suite. (We particularly loved the master closet!). It was a pleasure to meet Victor and Caron Farina and witness their great passion for what they do; they truly set the bar in design and craftsmanship.

We congratulate GOBA and all the entrants on pulling off a successful Parade in spite of all of this year's challenges. We're planning to be back to the Orlando area next February for the IBS Show and to share more wonderful pics of the outstanding building talent there.