2020 Curb Appeal
The ornate detailing and steep pitched roof lines of yesterday's McMansions are out, and cold industrial designs are just as passé. Simplicity is the name of the game for the new decade; yet standing apart to make the sale remains a priority. Today's narrower lots put designers to the test to balance scale, privacy and garage placement and maximize natural light influx.
Here is a look at some of the top exterior design trends:
Mixed Use Materials on Exteriors, is the leading trend for 2020 exteriors, says Royal Building Products, citing, "While brick and stone remain popular, these materials are no longer the main focal point of exteriors. Instead, blend the materials with the rest of the home's exterior design features to present a dynamic look that isn't overpowering
Houses with warm, inviting farmhouse elements combined with sleek contemporary details were some of the most saved exterior photos by the Houzz.com community last year.
Thin frame slim profile windows clad in black or with textured outside finishes continue to be popular across all of the leading exterior design styles.
Taller window heights for maximum daylighting capabilities "invite the outdoors, inside."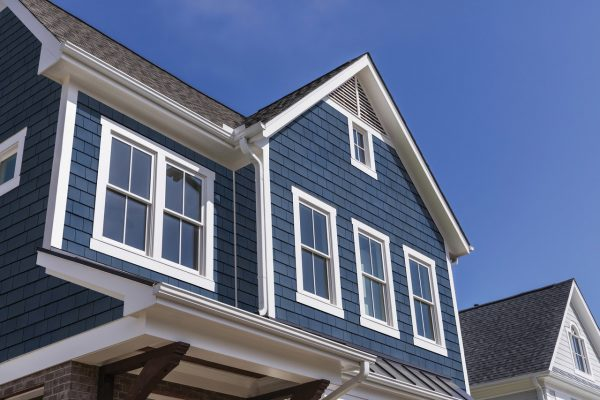 Pivot doors provide a bold and modern design aesthetic that sets them apart from any other entrance door.
Natural wood accents including corbels, brackets, shutters, doors, columns, and variegated plank siding.
Beautiful garage doors–glass garage doors in clear to opaque finishes, reclaimed wood garage doors and black finishes are on-trend. Customize them with hardware accents.
Painted wood accents–cellular PVC siding or fiber cement with a smooth finish offer the appearance of painted cedar siding.