Competition Stiffens Even More in the Compact CUV/SUV Segment
What the auto industry calls "light trucks" includes pickups, SUVs, crossovers and minivans.  Last year, light trucks made up a record high U.S. market share of just over 77 percent. U.S. manufacturers report more than 90 percent of their sales in this segment.  Learn more about the light truck segment.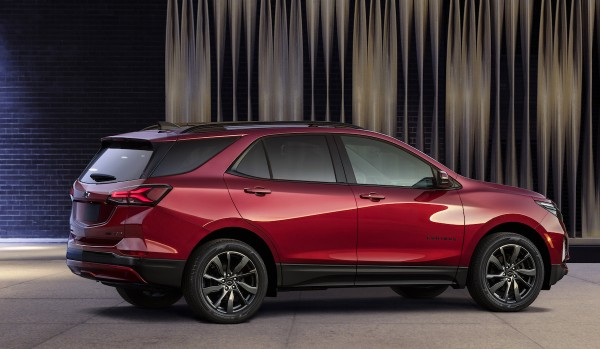 Forbes reported that last years' five top-selling vehicles include three pickup trucks and two compact crossovers.  The Equinox supports this trend as Chevrolet's second best-selling vehicle, second only to the Silverado half-ton pick-up.  The 2022 Equinox got a refreshed look with new LED headlights, new front grille and redesigned front and rear bumpers.  With a 1.5-liter, turbocharged engine coupled to a six-speed automatic transmission, performance is a little lackluster compared to some, but the ride is smooth and stable.  Even with the AWD option, our RS trim level tester earned a 27 MPG EPA-estimated fuel economy rating. The RS added even more sports flavor, with black wheels and trim. Its standard vehicle price was listed at $31,700.  Adding leather, Bose premium sound, infotainment extras, and an advanced safety package with HD Surround Vision and Adaptive Cruise Control, the all-in price was a tidy $35,970.
With Genesis known for its ability to offer well-appointed, nicely-finished vehicles at a more affordable price point, it's not surprising that the all-new GV70 positions Genesis squarely among the compact-luxury SUV competition.   Those who love the G70 sports sedan will find it similar, with the benefits of a higher seating position and extra cargo room.  Ours had the turbocharged 2.5-liter four-cylinder V-6 with standard AWD and eight-speed automatic transmission good for 300 hp and 24 MPG combined; a twin turbocharged 3.5-liter V-6 is also available, getting 375 hp with 22 MPG combined.  Our tester had a $41,000 MSRP.  Its Advanced package added leather upholstery, interior ambient lighting, a heated steering wheel, a host of driver-assistance features including a remote self-parking feature for $4,150. A panoramic sunroof, 16-speaker Lexicon stereo system and 19-inch wheels were added with a $4,000 Select package, putting the total price tag at $50,695.
THIS COLUMN APPEARING AS "WHAT DRIVES US?" IN  ESTATE LIFE MAGAZINES
IS BROUGHT TO YOU BY EUROPEAN SERVICE CENTER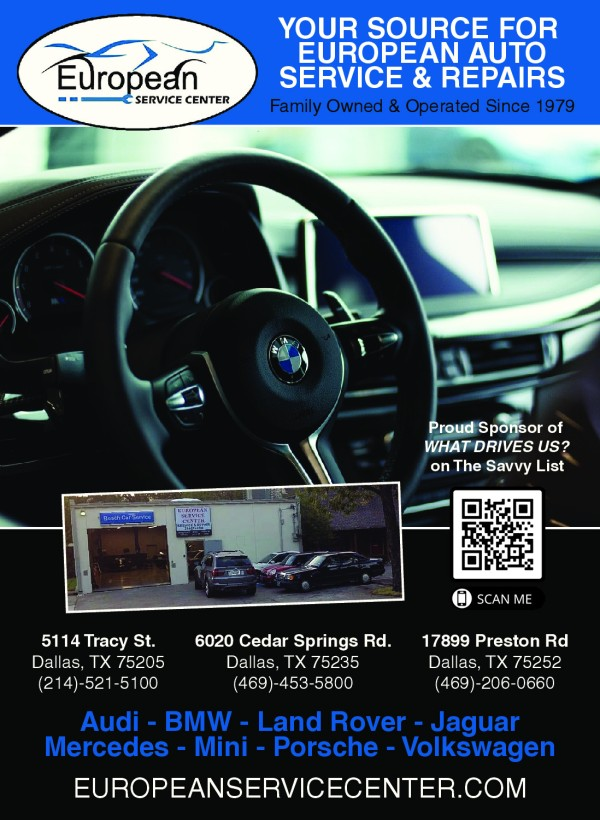 Critics are calling Lexus' first plug-in hybrid, NX-450h+, the most technologically advanced and quickest, yet most expensive NX model to date.  The MSRP on our Luxury trim tester was $55,650, with a final tag of $62,960 including options, but Lexus is doing well in quashing its luxury competition in the EV range. The Texas Auto Writers Association concurred, naming the NX 450h+ "Luxury CUV of Texas" at its recent Auto Roundup event.   With standard all-wheel drive, its EV range is estimated at 37 miles with the gas engine kicking in to take you a few hundred miles beyond.  Those looking for quicker acceleration will like it, too. Based on Toyota's RAV4 Prime 2.5-liter inline-four engine and hybrid system, it gets 302 hp taking it from zero to 60 in six seconds.
Mazda's 2023 CX-50 is another all-new small SUV, the first Mazda to come out of the new Huntsville, Alabama plant, a joint venture with Toyota. The CX-50 is doing well out of the gate, winning the regular CUV category at the recent Texas Auto Writers Association Auto Roundup. Sitting alongside Mazda's other compact, the CX-5, CX-50 is 6.7 inches longer and 3.1 inches wider with a 2.2 inches lower roofline, giving it the look of a tall wagon versus a more upright SUV. The new vehicle has the same engine options as CX-5, both paired with a six-speed automatic transmission. A 2.5-liter four-cylinder engine (187 horsepower, 186 lb-ft of torque) is standard. Our tester sported the turbocharged option, getting 227 hp, 310 lb-ft on 87 octane (even more on 93 octane). All-wheel drive is standard. Acceleration and handling are highly rated like most Mazdas. The surprise with CX-50 is its capability for light off-roading and 8.3 inches of ground clearance (8.6 with the Turbo). Mazda estimates the turbocharged engine will get 25 mpg combined and the base engine will return a little higher at 27 mpg combined. MSRP was $41,550. With the Turbo Premium Plus package and delivery, our tester was $43,170.
Every industry has its struggles, but it is especially true in the automotive industry to say that complacency is the biggest killer of a vehicle, a brand and a company. The saturation and competition in the small light truck market means no rest is in sight for the auto design and engineering teams.